Forty-six Victorian local councils will partner with the Australian energy retailer owned by Snowy Hydro, Red Energy, in what will be the largest emissions reduction project ever undertaken by local government in Australia.
Commencing in July, Red Energy is set to provide 240GWh of renewable energy per year until 2030, which will power the Victorian Energy Collaboration (VECO).
VECO, led by Darebin City Council in Melbourne's north, will provide 45% of all Victorian Councils' electricity requirements with 100% renewables, reducing greenhouse emissions by 260,000 tonnes of C02-e every year.
The 240GWh of clean power is equivalent to powering 48,000 homes with renewables or removing the emissions from 90,000 cars every year.
"The Victorian Energy Collaboration supports Greater Shepparton City Council commitment to 2030 zero emission target, after declaring a climate emergency in March 2020," Greater Shepparton City Council Mayor, Kim O'Keeffe said.
"16% of all council generated emissions are from electricity according to our carbon emission assessment. Council are taking action by making the change to switch to renewable energy supporting Councils commitment to addressing climate change. Council are continuing to take positive steps to climate change and working in collaboration with VECO will assist in achieving our zero emission target."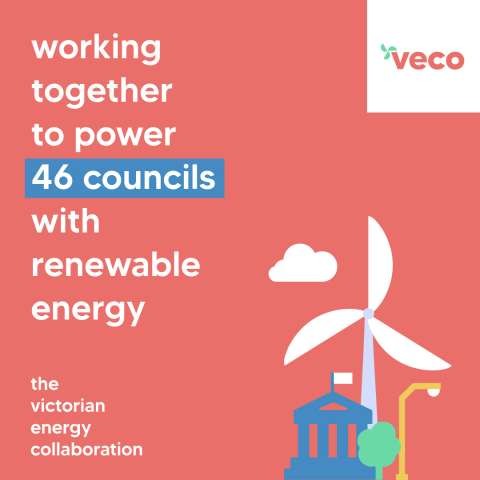 The renewable energy will be linked to two wind farms located in regional Victoria; Dundonnell Wind Farm near Mortlake in South-West Victoria, which started exporting power to the grid in March 2020, and Murra Warra II wind farm near Horsham which commenced construction September 2020 and will be fully operational by June 2022. Red Energy's parent company, Snowy Hydro, has long term supply agreements with both of these facilities.
CEO of Red Energy, Iain Graham said it was exciting to see councils work together for the greater good of their communities.
"Given Red Energy is born and bred in Victoria, we are really excited to be a part of a project that is supporting Victorian councils, their ratepayers and two new Victorian wind farms" said Mr Graham.
"Our owner Snowy Hydro has been a leader in renewable generation for decades and Red Energy is delighted to partner with Victorian councils to provide a long-term energy contract that will enable councils to purchase renewable energy at a competitive price."
Darebin Mayor Councillor Lina Messina said the project was proof of what can be achieved by local government working together.
"This is a bold, visionary project that pushes the boundaries of what was thought possible for local government. The 240GWh of clean power will reduce greenhouse emissions by 260,000 tonnes of CO2 every year," she said.